CABRHA diamonds in the world of media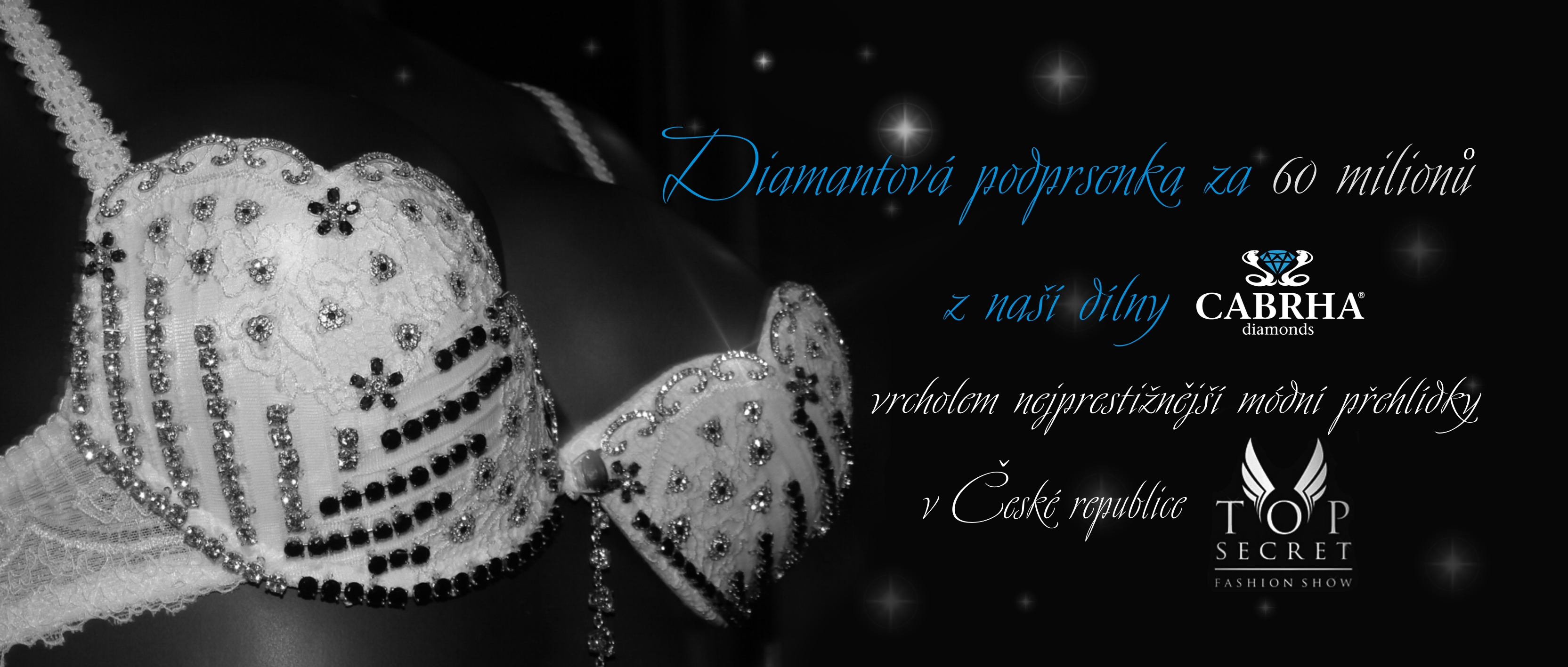 For the First Time in the Czech Republic and Europe!
This wonderful Bra is made with cooperation with a luxury czech producer of luxury lingerie Weso. This unique model was made with hundreds of diamonds and gemstones set in the white gold. Particularly clear diamonds and sapphires.
2, 143 000 € Diamond bra was the highlight of the TOP SECRET 2012 show which was held at Hilton Hotel in Prague. Bra was presented by lovely Slovak model Mária Zelinová, the finalist of Miss Slovakia 2010
Direct links :
http://www.denik.cz/praha/obrazem-podprsenka-za-60-milionu-20120313.html
http://www.podprsenky.com/magazin/zajimavosti/nejluxusnejsi-ceska-podprsenka-ma-cenu-sedesati-milionu-korun
http://www.youtube.com/watch?feature=fvwp&NR=1&v=tRSNOF0wmpk
http://www.evropa2.cz/srv/www/content/pub/cs/tym-a-porady/mp3-archiv/index.shtml?itemId=10418
http://www.novinky.cz/koktejl/260558-v-praze-byla-predstavena-diamantova-podprsenka-za-60-milionu-korun.html
http://www.super.cz/9744-to-musite-videt-nejdrazsi-ceska-podprsenka-je-tu-tahle-nadhera-stoji-sedesat-milionu.html
http://www.tyden.cz/fotogalerie/prehlidka-top-secret-aneb-sexy-tela-a-diamantova-podprsenka_5418/
http://iluxus.cz/2012/03/07/prahu-oslni-diamantova-podprsenka-za-60-milionu-korun/
http://www.mezizenami.cz/clanek/prahu-oslni-diamantova-podprsenka-za-60-milionu-korun
http://www.bvv.cz/styl-kabo/srpen-2012/aktuality/cesky-vyrobce-diamantove-podprsenky-werso-na-stylu/
http://www.spy.cz/bulvar/12068-hvezdou-prehlidky-bude-diamantova-podprsenka
http://www.metro.cz/praha-uvidi-podprsenku-za-60-milionu-je-z-diamantu-fbn-/metro-extra.aspx?c=A120307_105019_metro-extra_jos
http://www.modarevue.com/1574/cesky-vyrobce-diamantove-podprsenky-werso-na-stylu